Today's episode is special. This is our first entrepreneurial session and relatable to anyone in any field, especially software engineers. If you haven't listened to our episodes before - this one, you shouldn't miss. Don't say I didn't tell you ooooooo :)
It's about 50 mins long - and he's why. Chidi is a super busy man, the times when you're lucky enough to get his attention, better take advantage of it and learn as much as possible. Don't scroll past this episode.
If you'd like us to include more entrepreneurial talks once in a while, please click on the like button - it's a feedback mechanism for us on what you really need.
You don't know who Chidi is? What! You're missing
Chidi Nwaogu sold his first 1 million+ userbase company to a Canadian firm while he was in school. He's what I call multi-fellow in entrepreneurship programs, a startup advisor and mentor.
A little more about Chidi
…Westerwelle Fellow 2019, Yunus&Youth Global Fellow 2019, Halcyon Incubator Fellow 2019, AyadaLab Fellow 2019, African Young Leaders Fellow 2019, YALI Fellow 2019, winner of the ITU Innovation Challenges 2019.
I know it can be tiring ready this long profile, why don't you read more and connect with him here instead.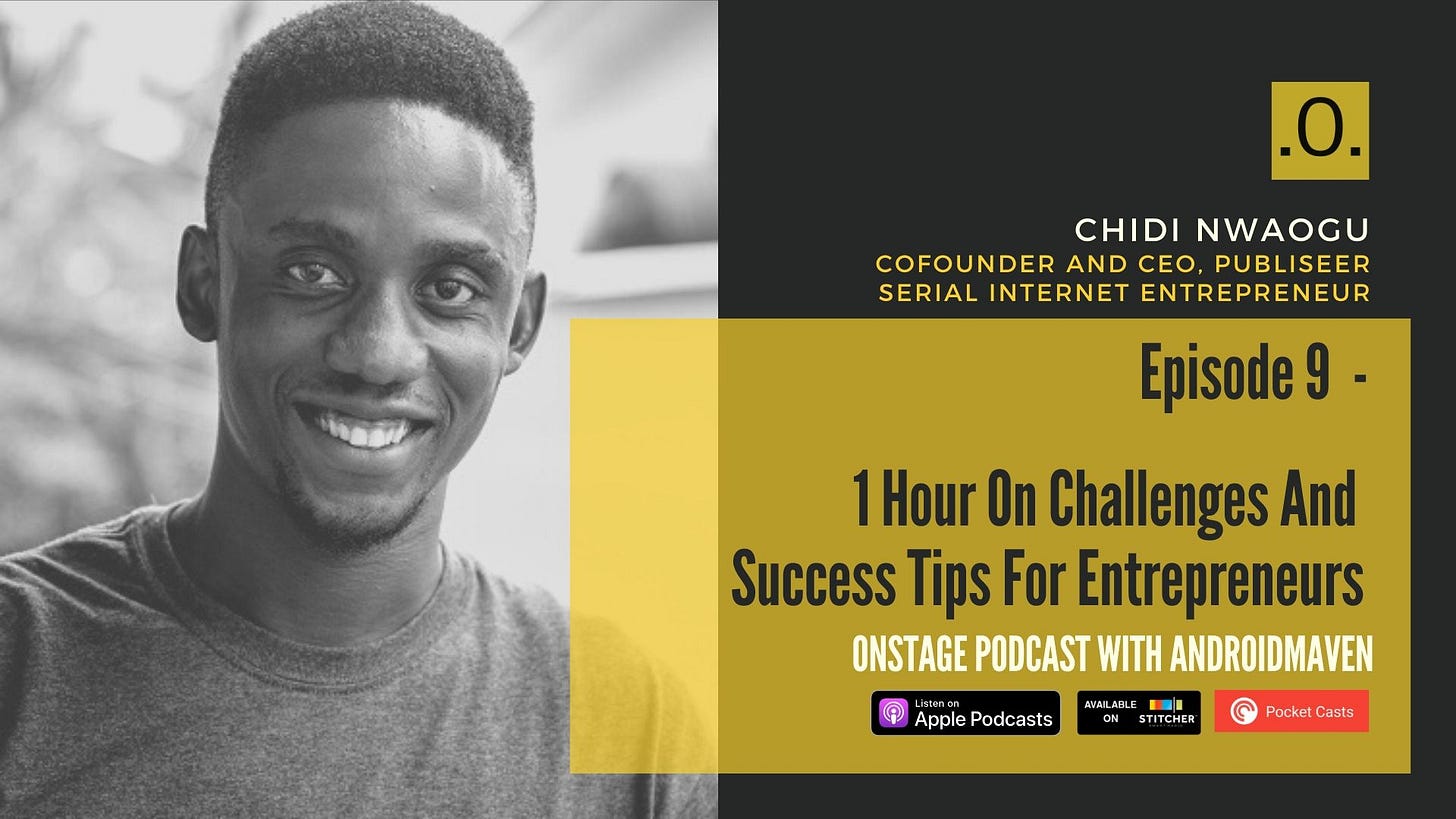 What you'd learn in this sugar value-packed podcast episode?
More about Chidi Nwaogu, and what he does.

About Publiseer, he's travel and what he does at the fellowship programs.

How, software engineers, designers etc can be successful entrepreneurially.

Global collaboration and networking. Is this only for the wealthy and super experienced people? Things you need to know.

The 5 biggest challenges Chidi has faced as an entrepreneur, and how he overcame them. What are the key things you should hold on to?

Entrepreneurial fellowships related- 

What really are the benefits of being part of programs like these?

Links/website he recommends you to find these programs and apply.
Community updates, which I'm very excited about
>>>>>>We just crossed 3,700 active podcast listeners.<<<<<