This is a 10 minute podcast. Very low data consuming, allowing you to listen and get the most value fast without interrupting your day. Kindly listen now, so you don't forget. This is a "superly and codedly" interstesting episode you'd really love and do not wanna miss :::)))

One more thing - This is the part 1 of episode 8. You can find the continuation (part 2) here.
Hurray! Today we are talking with the first-ever lady to be interviewed on Onstage podcast. And it's with an Andela Learning Community Program Assitant.
Rachael Onoja is one of the Andela ALC Program Assistant in Nigeria, as well as a community manager for Google Developer Group and Women tech maker in her region. She is so much admired and very approachable, her influence and impact in the tech community are profound. She sure has a dept of knowledge you need to learn from.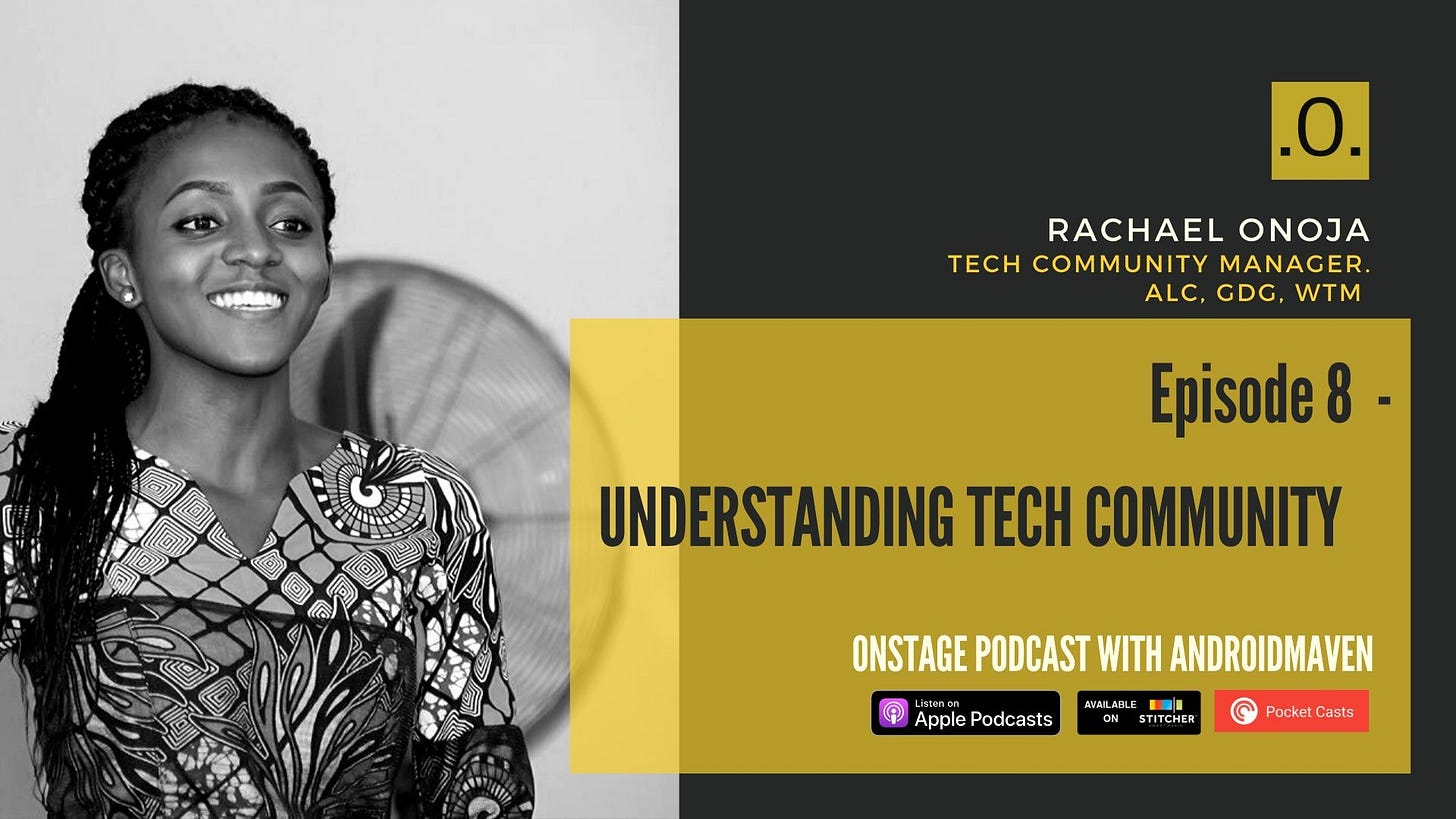 This is the part 1 of episode 8. You can find the continuation (part 2) on the first paragraph.
In this episode 8 of Onstage Podcast you'd be:
1) Learning About Rachael, her background and work with Andela - and her preference for fried chips :)
2) Understanding what the tech community really is and how you should view it.
3) Having access to the list of tech community you can be part of globally: Read it on her medium post here.
4) Learning How to benefit more (getting jobs and networking) from the community.
5) Listening to her advice to software developers, enthusiasts and advocates.
Don't' miss this, every minute is full of value.
Community updates
Onstage podcast crossed over 3200 active subscribers with 90% being software engineers, designers and advocates. Yaaaay !!!

We are on Twitter and Instagram with the handle @onstage_podcast.
Thank you for being part of this podcast. Please share this episode with a friend or on social media using the button below.