Discover more from Poems Like Wine 🍷. Every Saturday!
Welcome to Tobi Akinpelu's Page. I write Poems, Fiction and Software engineering. Join our newsletter.
Over 9,000 subscribers
[Jobs] 4 companies are hiring fast in Germany and Lagos
Onstage jobs alerts you on the very new software dev. job opportunities openings
Hey friend!
Looking for opportunities? or you know someone in need of one? Check this out:
P.S: Because I want you to stand a better chance, I include the most likely salary range with the details. This is not the actual salary but based on my prediction on the company type, requirements and company revenue. I recommend during your interview when you're being asked how much you'd like to earn, stick to the range.
1) Rhics Technology: This company is more of an Agency, where they develop several apps for clients. Joining them will provide lots of hands-on experience. Registered in the UK, but operation in Lagos. They are looking for someone with.
3+ yrs experience in React Native / Flutter mobile development

Experience working in the financial service industry

Experience working with Chatbots

Verifiable portfolio of mobile apps completed and published on app stores.
Most likely salary range: NGN 180,000 - 300,000. Location is in Victoria Island, Lagos.
2) Globasure: They do the same thing as Rhics, but with an addition to hardware and services. They are looking for someone with.
Android development skills.
Not much info was made on this, but I'd bet you'd need at least 2 years to meet minimum requirements. Additional hybrid skills would also be nice.
Most likely salary range: NGN 150,000 - 250,000. Location is in Lekki Phase 1, Lagos.
3) Babban Gona: This is the real deal friend! You'll even to get to travel. I've gone through their website and team members, they rock. However, higher experience is required. They are looking for someone to lead their software engineering team. You have 4+ years of experience in Software Development or an equivalent of education and experience.
You have basic knowledge of software development life cycle (analysis, design, implementation, testing, and documentation) and execution models (Agile, Iterative Development, etc.)

You have the ability to develop Android apps using any framework desired.

You have an understanding of databases, with proficiency in SQL.

And more.
Most likely salary range: NGN 400,000 - 800,000. Location is in Lekki as well.
(They are willing to sponsor your travel if you are from outside Nigeria)
4) Germany is calling you.
Nexxiot, Frankfurt: They do logistics and supply chain in Germany, and are looking for backend developers. Only about 12 people are sent in an application, so you still have a good deal. Looking for:
Experience in writing JVM based software, primarily in Kotlin and Java. Python and Linux/Unix shell know-how is a great plus. 

Familiar with common backend engineering concepts, patterns and technologies like SQL (PostgreSQL), NoSQL (DynamoDB), Message Queueing (SQS), Publish & Subscribe (SNS & Apache Kafka), Twelve-Factor App, Serverless (AWS Lambda) and Containerized (Docker) workloads. 

Acquainted with the Git version management system (Gitlab) and CI/CD best practices (Gitlab pipelines).
Most likely salary range: $45,000 - $80,000. Location is in Germany.
In case you missed last week's episode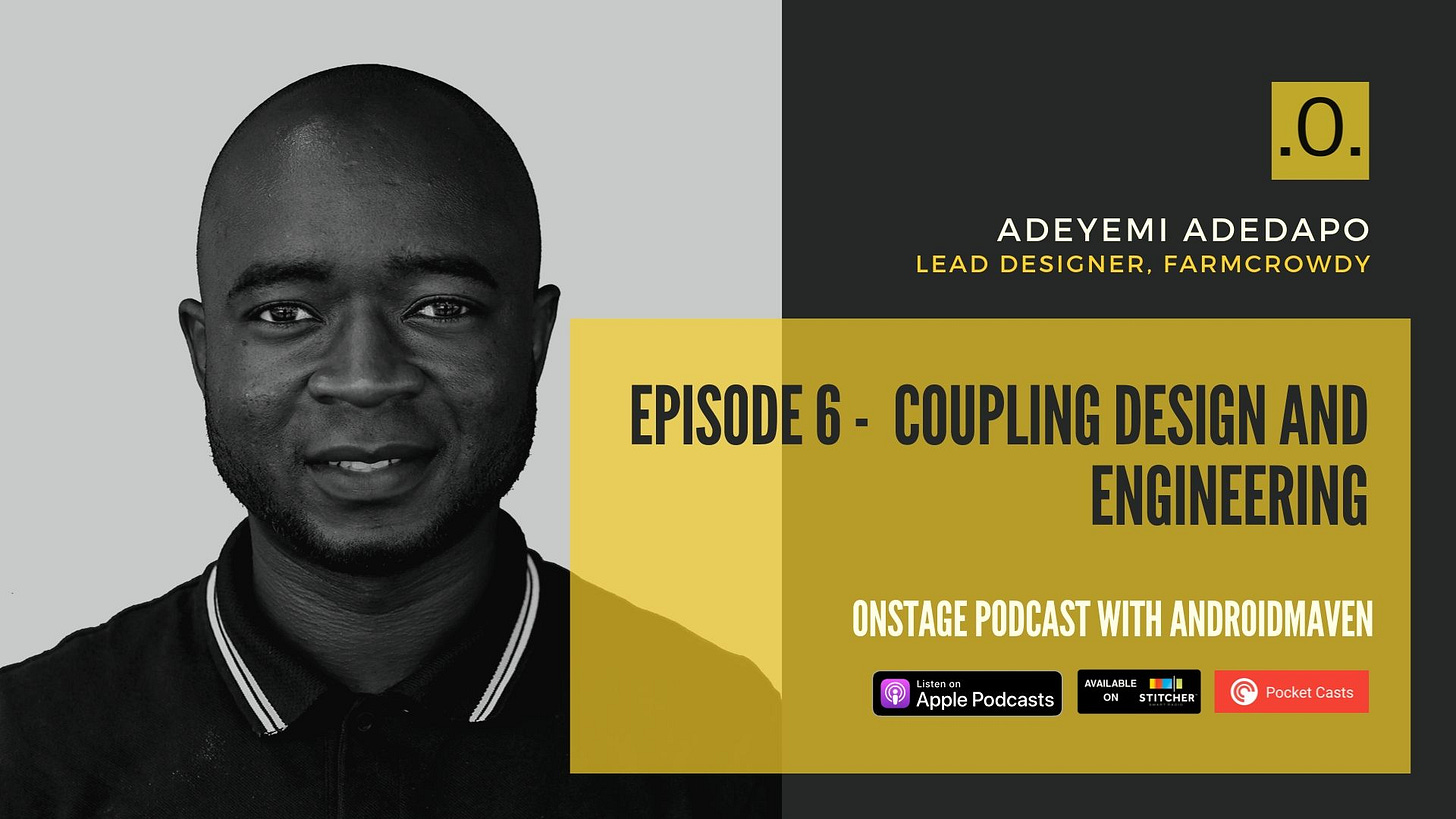 In less than 32 minutes, you'd learn:
Who Adeyemi Adedapo is, his background and how he got into designs and coding, 13 years ago.

Why and how designers and coders work smoothly in synergy, without breaking each others head (LOL).

Design processes from idea to finish.

Why user research is key, and how you can incorporate it in designs and coding.

How much should you charge clients, so you can earn more? - He explains the factors involved and gave an example of a recent project.