Discover more from Poems Like Wine 🍷. Every Saturday!
Welcome to Tobi Akinpelu's Page. I write Poems, Fiction and Software engineering. Join our newsletter.
Over 9,000 subscribers
How Much Salary Is Fair?
My thoughts from the #KnowYourWorth Trend.
A couple of days ago, the #KnowYourWorth hashtag on Twitter trended which was about Developers salaries, not just in Nigeria but globally.
Some developers posted their salaries (largely from the EU and US), while from the African countries were more discrete. But let's face it, the discussion all came up from a single tweet which the perception from the large audience was something similar to "Nigerian developers can work for low salaries, even for western companies", and of course invariably means "African developers".
Here's a screenshot, the main tweet was deleted.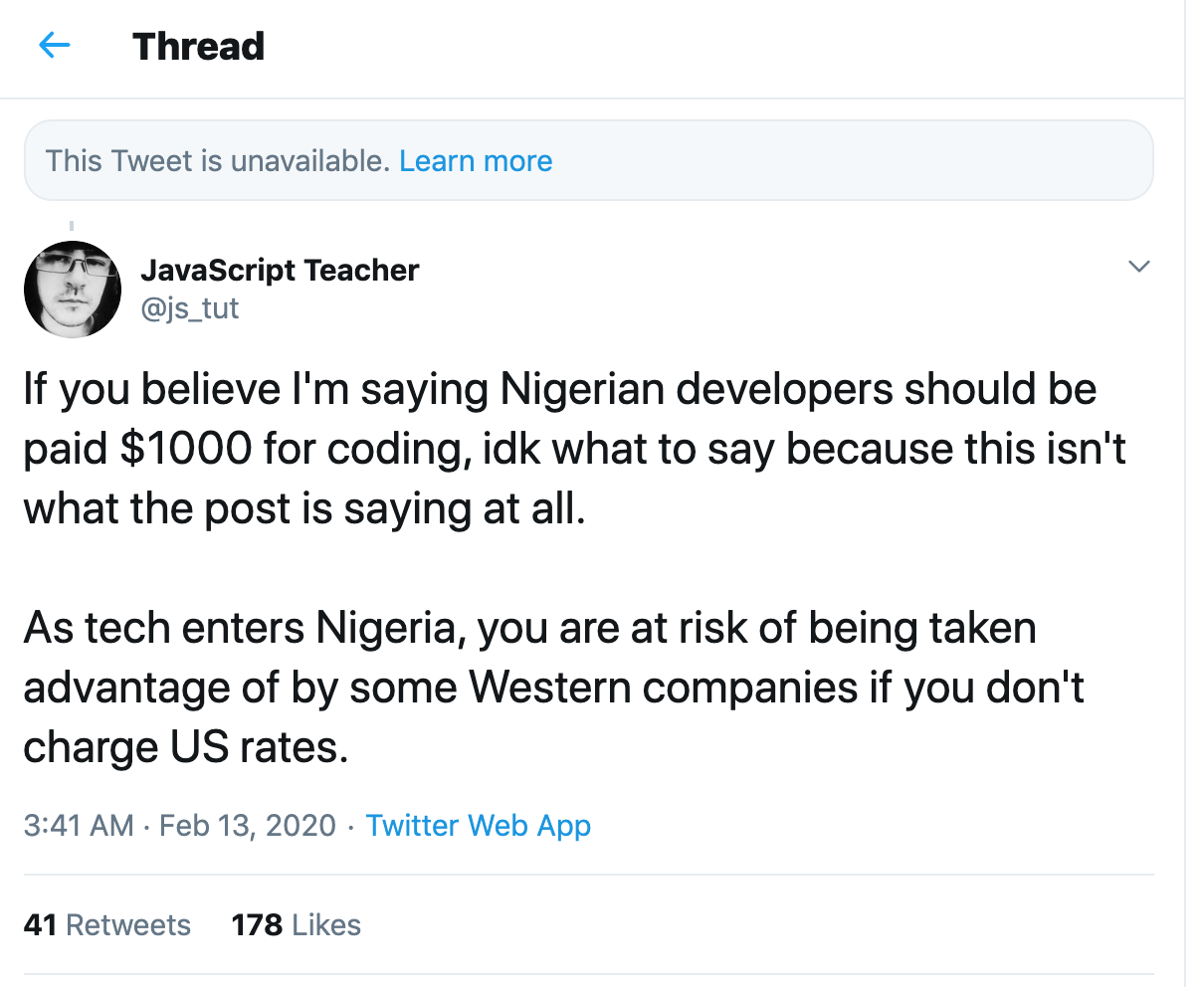 If you asked me about my personal opinion of the tweet. I'd say he probably said that on good intent, without disrespect which was perceived by the larger audience from another angle. However, was he really right?
This post is not about who's right or not. But to charge you to focus on value and a little expo about this salary of a thing.
Location truly matters
If you're in Germany earning gross 80k Euros, it really doesn't mean the other person in San Francisco, US; earning gross $120k lives better than you. Factors like tax, housing, health, insurance, etc also matter. I know a Googler who pays $4k on rent alone monthly, and a developer who pays ~$1200 rent in Berlin/month. So if a company have two devs living in S.F and Berlin, chances are (if both are same experience level, same role), the one in S.F will be paid higher - but it dosen't mean more wealth, in fact, the Berlin guy being paid gross lower can be "balling" than the one S.F.
From the African perspective? There's no limit as well.
If you're an African, and you relocate - you'd be paid at the negotiated rate.

You're working remotely? You'd still be paid at an awesome rate (depending on the role, your value and the companies pocket).

You're working locally? You'd still be paid at a good rate (depending on the role, your value and the companies pocket). Although truly the range is wide, don't be fooled, there are companies paying over $7000/month to employees here in Lagos, though the majority of firms pay lower than that.
So, you can't earn $250k as a dev whilst in Lagos or Nairobi?
Yes, you can! Based on these 3 factors.
1) Less difficult: If you value up real good that the company really wants you and can afford it.
2) Difficult: If you join a company whilst they are small, and they grow up with you in it, 90% chances are salaries increases will get to you too irrespective of location.
3) Most difficult: Co-found a company with someone there. More rewarding since it goes beyond just salaries but more benefits.
Finally…
It's important to know that no amount of salary will be enough for you. The more you earn, the more you want to earn more. Whatever you do have today: find happiness, invest, grow your skill, and position yourself well so you can attract more.
I almost forgot!
Some African devs anonymously shared their salaries on a google form, you'd be shocked about the result. Find the link to the result here
Have you heard of
Hover? You can build apps that run without the internet connection (edited, after posting), and yet data will show up on your servers. Check it out here: https://usehover.com
I'd soon get back on the podcast series. I know you must have missed me.